Performances and Live Events
2021
Oct 2, 2021 - Mar 6, 2022
Year of Uncertainty at Queens museum, Queens, NY
part of the Guardians of Flushing Bay exhibit.
You can listen to a field recording of mine in the exhibition Year of Uncertainty,
currently on view at the Queens Museum as part of a presentation by the
Guardians of Flushing Bay, a grassroots coalition of human powered boaters,
local residents, park users and citywide partners advocating for a healthy and
equitably accessible Flushing Bay and Flushing Creek.
I contributed a living wind map of Flushing Creek's tidal shores. Nurtured by the
Lenape, plundered by europeans and its tidal flows soon to be forever lost due
to unnecessary condo development along these wetlands.

Direct link to the recording on soundcloud
+
Direct link to the project.
2020
Fri. Nov. 6 | 7 pm CT |
Woodland Pattern Book Center Milwaukee, WI
$Give What You Can

A conversation and Q&A with aCinema co-curators
Janelle VanderKelen and Takahiro Suzuki
via Zoom on Friday Nov. 6th, at 7 pm CT.
* For an immersive experience between film and Q&A,
it's best to start watching no later than 5:30 pm CT on Fri., Nov. 6.
Nov 1 - Nov 30
Shikata Ga Nai
aCinema, Milwaukee, WI

aCinema presents a curated group program of experimental film, video and sound.
featuring works by

Alejandra Abad
Erin Espelie
Lore Loyens
Ian Epps.

The films and sound will be accessible starting at
12:00 pm CT on Sun., Nov. 1st, and will remain
available until Mon., Nov. 30th.

// TRT 40MIN
April 7th
7:30 pm–9:30 pm
ART • WORK • PLACE: EMERGENCY SESSION WEBINAR
BREAKOUT SESSION #1: MUSEUM WORKERS AND ORGANIZING
BREAKOUT SESSION #2: STRIKING AND SOCIAL JUSTICE
BREAKOUT SESSION #3: WORKING WITH CHILDREN
* recordings accessible from website link.


As the COVID-19 pandemic worsens, cultural workers are experiencing mass layoffs, and it is clear the art world will never look the same. In the first hour of this emergency forum, speakers will present ten-minute reports from the field; the second hour will feature breakout Q&A sessions with the speakers as well as a labor lawyer and a children's therapist.

Art • Work • Place was originally planned as a two-day summit on efforts to create a just and equitable workplace in the art world—union organizing at museums, protests against toxic philanthropy, challenges to institutional racism, and lawsuits against sexual harassment and gender discrimination. But the current health emergency has drastically changed our conversations and needs. This online forum will instead focus on the immediate moment, sharing concrete information and ideas: What is happening to workers at art institutions across the country? What coalition groups have been formed for solidarity and support? What are our strategies going forward?

The organizers are reallocating the budget for the planned summit and speakers are forgoing their usual honorarium so that funding can be directed to aid groups and individuals in need.


Speakers include:

Ian Epps (Art Handlers Alliance) will explain what is occurring at the city, state, and federal levels to support precarious workers, and what actions we can take.

Michelle Millar Fisher (Art + Museum Transparency) will describe the layoffs, furloughs, and pay cuts taking place at museums and galleries, and the consequences for unionization.

Camilo Godoy (artist/educator) will outline the specific challenges confronting freelance museum educators.

Landry Haarmann (Met Council on Housing) will discuss strategies for rent strikes.

Shaun Leonardo (artist) will talk about his work with young people caught up in the justice system and New York State's recent rollback of bail reform.

Andres Puerta (International Union of Operating Engineers Local 30) will address cross-organizing and solidarity with striking workers.

Kate Zayko, LCSW, will answer questions about the new struggles parents and children are now facing.

The forum will be chaired by Nikki Columbus.


Organized by the PhD Program in Art History (CUNY Graduate Center), in collaboration with the James Gallery/Center for the Humanities (CUNY Graduate Center) and the Vera List Center for Art and Politics (The New School), where it is sponsored in part by the Helen Shapiro Lectureship.
2019
August 9th | 9pm
Facebook
Resident Advisor
Tickets
June 15th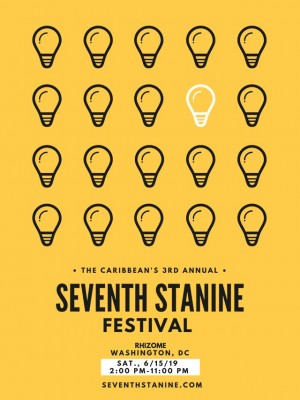 ADVANCE TICKETS HERE
DJ's:

Marc Masters
Jim Thomson

$20 suggested donation (100% of proceeds go to the artists and Rhizome)

Also:

Beer by 3 Stars Brewing
The Tetrocosa Room (see seventhstanine.com for more details)

Full schedule here: https://seventhstanine.tumblr.com/lineup

Facebook
Saturday Jan. 19th, 2019 - 7pm
Facebook
Resident Advisor
Jan. 10th, 2019 - 7pm
* Starts early 7pm
Facebook
Resident Advisor
2018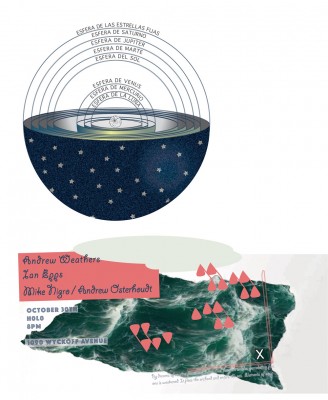 Oct. 30th, 2018 - 8pm
Facebook
Resident Advisor
Sept. 21st, 2018
Full rundown of the festival stage

Thursday Preview presented by Blank Forms
6pm DJ Monchan
7pm Roe Enney
8pm Odwalla1221


Friday presented by Printed Matter
3pm - Sergej Vutuc
4pm - Faten Kanaan
5pm - Ian Epps
6pm - Lori Scacco


Saturday presented by Heavy Trip
3:30pm - Ka Baird
4:45pm - Evan Caminiti
6:00pm - Greg Fox (GDFX)


Sunday presented by Pioneer Works
3pm - Lea Bertucci and Amirtha Kidambi
4pm - Jaimie Branch
5pm - TYGAPAW
6pm - Miho Hatori
Sept. 12th, 2018 - 8pm
H0L0 - Queens, NY

Seal Eggs, AJNA, Ian Epps
Jul. 14th, 2018 - 8pm
Nov. 14th, 2017 - 8pm
Sept. 23rd, 2017 - 9pm
Matthew Ostrowski
Matthew D. Gantt
Ian Epps
Robert Mayson
Dylan A. Marcheschi
Sunday June 4th, 2017 - 9 - 12pm
Mario Enrique-Paoli
Ian Epps
Ars Troitski
Mike Sidnam
Live visuals by Jim Tuite
Friday March 10th, 2017 - 8pm
Ian Epps
with Plan 23 and SeeJ (music and visuals)
Gill Arno (music) and Richard Kamerman (video)

....

Saturday September 3rd, 2016 - 8pm
Dafna Naphtali :: Performance, talk
Mike Amacio :: Field Manipulations, performance based on 8-ch field recordings.
Ian Epps :: Improvisations in ambisonic positive feedback and sympathetic resonance.
Friday December 12th, 2014 - 8pm
Front Room Gallery
Brooklyn, NY

This performance is part of a project made possible with funds from the Media Arts Assistance Fund, a regrant program of the New York State Council on the Arts, Electronic Media and Film, with the support of Governor Andrew Cuomo and the New York Legislature; administered by Wave Farm.
     
Monday August 20th, 2012 - 8pm
....
February 10, 2012
Front Room Gallery, Brooklyn, NY
....
July 7, 2010
mvmnts n a feeld fgraen
....
June 10, 2010
Goodbye Blue Monday, Brooklyn, NY
w/ Slava, Axitia Mode, AntroniX
....
March 7, 2009
fotofono, Brooklyn, NY
Unframed Recordings Release Party
....
October 10, 2009
Diapason Gallery, Brooklyn, NY
10ms: Perspectives on Microsound, in honor
of the 10th Anniversary of microsound.org
....
June 11, 2009
Front Room Gallery, Brooklyn, NY
FLOW at Front Room Gallery
....
May 18, 2009
....
Wednesday March 12th, 2008 - 9pm
93 2nd Ave. NY, NY 10003
....
Tuesday February 26th, 2008 - 7-9pm EST
Radio Ruido works in conjunction with free103point9:Transmission Arts to
host Triangulation: a live weekly Online Radio show at www.free103point9.org,
Tuesdays 7-9 pm EST.

The focus is to present a live forum for experimental sound cultures...genre crossing dj sets / live improv / ethnographic sound travels...an attempt to navigate the tension between the folkloric and the electronic...to remember the past while embracing the future.
....
Saturday January 5th 2008 - 8pm
1041 Manhattan Ave.
Brooklyn, NY 11222
....
January 31 - February 24, 2007
59 Franklin Street
New York, New York 10013

Opening reception: Wednesday, January 31, 6-9 pm
Opening night performances from Mathew Burtner 7 & 8 pm.
With Ian Epps, Aaron Halley, Tom Mulligan, and Jeremy Slater.

Gigantic ArtSpace [GAS] and free103point9 are pleased to present [silence], a exhibition focused on artists' uses of and responses to silence - as manifested in sculpture, in installation, in composition, in works on paper, and in time-based practices. The works on view address the futility of the chase, the beauty of absence, and the rich potential of an empty signal. Works from: Matthew Burtner, Jeroen Diepenmaat, Michael Graeve & Christoph Dahlhausen, Pablo Helguera, Douglas Henderson, Pierre Huyghe, Tarikh Korula & Tianna Kennedy, David La Spina, LoVid, Juan Matos Capote, Lee Ranaldo, Douglas Repetto, Michelle Rosenberg, Stephen Vitiello, and James Woodfill. Curated by Dylan J. Gauthier and Galen Joseph-Hunter.

Sound program: A Call for Silence, curated by Nicolas Collins.
Courtesy Sonic Arts Network.
Saturday performance series: 4:33 pm featuring Michelle Nagai (2/10), Michael Graeve with Tianna Kennedy (2/17), and 31 Down (2/24).


ABOUT THE WORKS

By compounding the energy of the FM signal, Matthew Burtner's performance Study 1.0 (feedback) for radio transceiver revisits the artist's childhood in Alaska and his ensuing focus on open communication in unoccupied places. David La Spina will present photographs of Burtner's performance at the opening reception - a sort of residual, feedback hum of the opening night.

Juan Matos Capote combines painting, sculpture, and field recordings in Series H, a study of accumulation, absence, and the nature of that which is imagined but unpronounced.

In Jeroen Diepenmaat's pour des dents d'un blanc éclatant ! et saines. dead birds are reunited with their lost birdsong through the preservational power of phonography.

Michael Graeve and Christoph Dahlhausen create an inaudible, synaesthetic feedback loop between two divergent but thematically similar art practices with their minimalist cadavre-exquise, Dialog 1.2.

Pablo Helguera presents new work gleaned from the series Dead Languages Conservatory, last words from all-but-lost languages.

Douglas Henderson exhibits a series of sculptures involving ultra low-level sound components, water, and the visual language of sine-waves.

Pierre Huyghe's Partition de silence (Score of silence) is a transcription of Cage's silent masterwork 4'33î (1952) into a flute sonata achieved via a sound-to-MIDI converter program.

Tarikh Korula and Tianna Kennedy will create a recording stylus in an attempt to unlock the Archeoacoustic sound dormantly sealed in found and historic objects around New York City.

Hearing Red continues the collaborative LoVid's work in blurring sensory boundaries through the use of electrical signals and synaesthetic output: in this case, a pure "Red" video signal is played as "sound" through a speaker, taking its form from the frequency of the video signal.

Lee Ranaldo's 4 organs combines thematic and visual data from Robert Smithson and Steve Reich to reach a third, distended point between the suspension of their respective oeuvres.

Douglas Repetto will realize a new version of the installation, puff bang reverb, a kinetic sculpture and semi-accurate, two-dimensional hyper-zoom, which exposes the secret life of displaced air molecules.

Michelle Rosenberg will present a new series of Ornamental Headphones that reassess our collective, compulsive culture of listening.

Stephen Vitiello's Trio, employs low-frequency sine tones to force the surface of a number of speakers to pulse and vibrate in patterns visible to the eye yet inaudible to human ears.

James Woodfill's film 60hz derives its subject from the constant and pervasive flow of electricity throughout our environment to alter our perceptions of time and movement.

www.free103point9.org | www.giganticartspace.com
....
December 5, 2006 : 8pm - 12am
97 South 6th St., 2nd floor
Brooklyn, New York

Three performers with unconventional approaches to acoustic string instruments via extended techniques and/or electronic processing.

Weekly Triangulation show hosted as always by Radio Ruido .
Online radio and video stream Start as usual at 7 p.m., doors open at 8 p.m., music at 9 p.m.
....
Saturday july 1, 4 - 8pm
210 kent Ave at Metropolitan
Williamsburg, Brooklyn. entrance on river street at the east river

Performance in conjunction with "Believe. Make" installation by Lauren Luloff.

Ian and Ben will introduce and amplify sound and light that acts as an extension of Lauren Luloff's installation entitled "Believe. Make". the installation gives the overall sense of an intimate space where the mind goes to play. throughout the space, short and long durations of sound accent and deconstruct the physical and visual materials of the installation. :: please join us for a few minutes or a few hours.
....
Tuesday 12 July
A series of interactions between live sound and image artists, tracing an arc through media technologies past and present...

Tuesday, July 12, 8pm

$5

Participant INC gallery
95 Rivington Street, NYC

Marie Losier - shadowplay
Kenny Wollesen - sound objects & percussion
Joel Schlemowitz - magic lantern & glass slides
Bradley Eros - film performance & Victrola
Tianna Kennedy - cello
Kerry Laitala - 16mm film
Gil Sanson - processed instrument & field recordings
Saul Levine - 8mm film
Kenneth Kirschner - piano sounds & treatments
Andy Graydon - live video processing
Richard Garet - field recordings & processing

Shimpei Takeda - digital video
Giles Hendrix - live video & synch sound
Chika - live video mixing
Zach Layton - electronic resonators & processing
....
Thursday 14 July
Presenting unique and individual approaches to music, light, and audiovisual performance...

Thursday, July 14, 8pm

$5

Participant INC gallery
95 Rivington Street, NYC


Ian Epps - video, acoustic guitar & processing
Keiko Uenishi - sound and light installation
David Daniell - processed field recordings
Hitoshi Toyoda - slide projection
Sean Meehan - percussion
Ilan Katin - live video, sound, and objects
mpld - slide projection & sound processing


For more info go to www.participantinc.org or www.rbmc.net
....
Saturday March 12, 8 p.m.-1 a.m
Tune(In))) Brooklyn
free103point9 eighth anniversary concert
@ free103point9 Gallery , Brooklyn.
free103point9's Tune(In))) is a silent concert, with performers playing into transmitters rather than amplifiers. Attendees listen to performances on radio with headphones. free103point9's Tune(In))) is a sound installation/event in designed for a virtually silent environment in which listeners hear live performances through individual radio headsets.

: : : : : : : : : : : : : : : : : : : : : : : : : : : : : : : : : : : : : : : : : : : : :
SUDDEN INFANT | CJMJS | SAWAKO | IAN EPPS | NEUROTRANSMITTER | DAMIAN CATERA | BEN OWEN + ANDY GRAYDON | TIANNA KENNEDY + TYLER NOLAN, TREVOR HEALEY + PATRICK HOLMES | IMAGINARY FOLK | 31 DOWN | MATT PASS | DJ KELLY KOMBAT | MATT BUA | MATT MIKAS + DANIEL CARTER + TOM ROE + TONY FLYNN | MICHAEL SCHUMACHER | ANDREW BARKER + JESSICA PAVONE + JESSE DULMAN + CHRISTOPHER MCINYTRE + CHARLES WATERS
: : : : : : : : : : : : : : : : : : : : : : : : : : : : : : : : : : : : : :
....
Friday, october 15 2004
....
Saturday 5.22.04
@ K2, DUMBO, Brooklyn. 7:30 p.m.
....
April, 2004
selections from the December 11th performance with Andy Graydon and Ben Owen ...are located here
the emmPee3 release recorded in April, as part of Seasonal's, addenda series ....is located here
....
Saturday, March 13, 2004
free103point9 7th anniversary concert #1
Japanther, Parts + Labor, Aa, Watersports, People, Zaftig, DJ Matt Mikas, DJ Tom Roe, Jessica Pavone, Zeke Healey, Polygraph, DJ Rhizome, La Otracina, Radio 4x4: Ben Owen + Radio Ruido + Ian Epps

@ OfficeOps, Brooklyn. 8 p.m.
....
Saturday, March 20, 2004
free103point9 7th anniversary concert #2
Accelera Deck | Satellite Grooves | Evol | sc all | psi + Alessandro Bosetti + Nate Wooley | Chuck Bettis | ENE | Radio 4x4: Ben Owen + Radio Ruido + Michelle Nagai + Andy Graydon | Seth Nehil | Nice Disc | Kenneth Kirschner | Tony Eaton | mpld

@ OfficeOps, Brooklyn. 9 p.m.
....
April 1st - 24th, 2004
A.I.R. Gallery

Daria Dorosh: Plays Well with Others.
Sculpture and multi-media collaborative.

Guests: Galen Brandt, Kate Brehm, Clilly Castiglia, Steve Dipaola, Carter Emmart, Ian Epps, Kevin Feeley, Mary Flanagan, Harriet Mayor Fulbright, Lizbeth Goodman, Gayil Nalls, Celia Piercie, Jeremi Sudol, Camille Utterback

Reception: Thursday, April 1, 2004, 6 - 8pm
....
December 11, 2003
a live stream of sounds from ian epps , ben owen , and andy graydon. the broadcast took place from brooklyn information outreach network , ny free103point9 internet stream:. - archived clips
....
September, 2003
Seasonal presents
Mike Murphy . mp3 / effects dj set, Daniel Givens with movement collaboration, Tony Eaton with sound system and projections, Camille Dieterle with Ian Epps
....
June 26, 2003
Seasonal @ OfficeOps , Brooklyn, NY
with Ogorusu Norihide of Carpark records . mpld , t wegmann , and b. owen will explore still and moving projections throughout the evening.
....
June 29, 2002
Eyedrum, Atlanta, GA
Ian Epps finds...the4yearoldchild
view poster
""Ian Epps pulls apart the familiar sounds of a 12-string acoustic guitar, through real-time computer processing, for a nostalgic attempt to recombine them into an imagined audio identity of the4yearoldchild. the4yearoldchild investigates speech, sensation, environment, memory and its immaterial impressions upon and within one's body. "Completely regressive...almost pre-verbal!""--Richard Gess.
....
May 20, 2002
Electric Arts Alliance of Atlanta
Meet The Artist: Richard Zvonar and Dan Walsh collaborating with Ian Epps
....
February 18, 2002
Game : Community
Electric Arts Alliance of Atlanta
Improvisational game inspired by John Zorn in which 3 teams of 4 musicians each 'compete' to interpret themes surrounding the idea of "Community"
....
February 6, 2002
Eyedrum, Atlanta, GA
100 YEAR OLD MAN & 4 YEAR OLD CHILD, ANOMALY, FIGURE 1.1 -- Lifeform Project's Anomaly and Figure 1.1 perform live experimental/ambient music with video projections, while Dan Walsh (100 Year Old Man) and blips 'n' bleeps creator Ian Epps (4 Year Old Child) stage a play date together. Eyedrum (Sarig)
....
November 14, 2001
Eyedrum, Atlanta, GA
Dave Gross & Liz Tonne, Ian Epps (the4yearoldchild), Dan Walsh (100yearoldman).
....
October 11 - November 25, 2001
Telematic Connections: The Virtual Embrace
The Atlanta College of Art Gallery, Atlanta, GA.
Live Performance for the opening of Telematic Connections: The Virtual Embrace, a traveling exhibition organized and circulated by Independent Curators International (ICI), New York, and curated by Steve Dietz.
....
August 31, 2001
Eyedrum, Atlanta, GA.
Ian Epps, Jason Forrest (AKA Donna Summer), & Dan Walsh come together as the Computers.
....
August 6, 2001
MJQ Concourse
Atlanta, GA.

Marumari, Richard Devine, High_Five_Bros., Ian Epps
Rhode Island's Marumari is a computer animator by day, and you can feel it in his gentle, wispy songs. His Supermogadon rains radiance, rays of new wave and new age synths showering the thin basslines and clicking freshly cut underbrush in a warm glow. It's the Moody Blues meets Mouse on Mars. It's bubbly. It's refreshing. It's pop, plain and simple. Local Warp and Schematic Records experimental electronic artist Richard Devine presents a live triple laptop threat, previewing tracks from his upcoming singles and 3-D electro-acoustic album. The High_Five_Bros. play droning improvisational space rock. Ian Epps performs on the glitch-hop, Oval-esque tip. And DJs Rasheed, Nemo and J-Stroke drop platters between the clatter. A premiere night of rare, top-shelf electronic music. MJQ Concourse (Ware)

Listed as one of the best shows of 2001 by Creative Loafing
....
July 15 2001
WLUW 88.7 FM 10pm-2am*, Chicago, IL.
Collaborative Radio performance and interview with Ian Nagoski on "Something Else" hosted by Capt. Philip von Zweck.
....
July 14, 2001
Transmissions Festival
6Odum (2116 W. Chicago), Chicago, IL.

Rafael Toral (Tomlab, Ecstatic Peace, Touch, Staubgold, Moikai)
Ian Nagoski
Ian Epps
....
January 6th ­- January 27th, 2001­
Panoptic Mind: Untitled
­
An exhibition of video from local, national and international artists featuring Robin Bernat, Alette Simmons-Jemenez, Neil Freid, Jedediah Caesar, Robert Cheatham and Chea Prince, Rhys Daunic, Ian Epps, Richard Gess, Zelijka Jovic, The Amazing Lizardos, Melissa Longenecker, Lisa Moran, Oliver Smith and Alan Sondheim.
..........................................................................................................